I have had a few strange days in a row.
Friday I got a "not so good" report at my sono.
I am going in Tuesday for a follow up sonogram to see if my numbers were possibly wrong on Friday. *sigh*
Then Saturday I had my grandmother's funeral.
After the funeral, as the afternoon & evening progressed, I started to notice Aiden not feeling well…which turned into a 104 fever, chills & throwing up.
In the midst of the chaos Saturday I also received some news that wasn't fabulous…. all this to say, we were driving home… we stopped to get gas and the most beautiful, perfect rainbow was extending across the sky. The clouds were fabulous and the colors in the sunset were breath.taking.
I got out of the car and stared. I was completely awe.stricken by the beauty.
I was just so overcome by the loveliness painted across the sky.
It was like some sort of message "it's all going to be okay."


As we started to drive away I said to Chris, "you know… I wouldn't want to walk through life with anyone else by my side. The mess, the scares, having babies, raising kiddos, curveballs….and even the rainbows- no one else, I just want you by my side."
Not because Chris & I have the perfect marriage by any means but because he gets me and because I couldn't adore and love him any more than I do. And even on the days when life is messy, I want him wading through the mud with me. Some days carrying me.
Most days I can't believe he wants me or chose me.
I know the last thing some people want to read is a long sappy blog post about someone who is in love with their spouse….but int the midst of some sadness today, I have great gratitude for him and what he is in my life.
At my grandma's funeral, my Aunt made a statement that Mama B (thats what we called her) spent her life supporting my grandpa's passion.
She knew his purpose in life and she dedicated her life to supporting that.
My grandad was one of the best surgeons ever. If you google "history of ACL surgery" my grandpa is listed as one of the men who carved the way.
I say all of this because Chris is that for me.
For the past 7 years he has dedicated so much of himself to finding out what God's purpose is in my life and doing everything he could to make those happen.
In the midst of life's curveballs, im still incredibly grateful.
and very blessed.
****
My Uncle Scott just emailed me this gorgeous picture- he also saw this beautiful rainbow- he had even a better view, no clouds surrounding it. And he included this poem that my Aunt read at the funeral written by my grandma-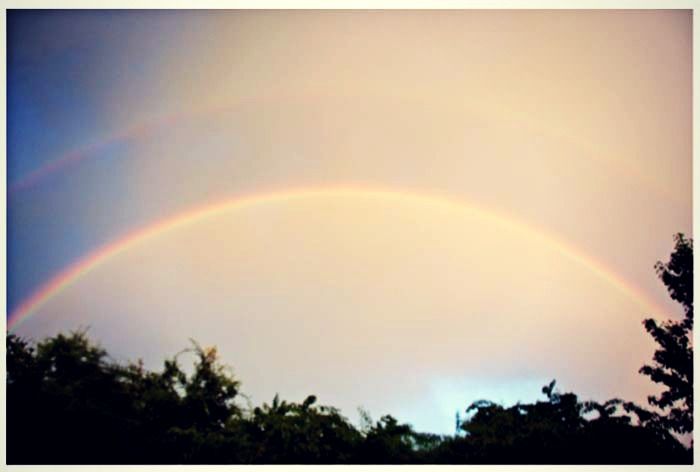 "This is a poem my mother wrote. My wife, Patti, read this poem at my mother's memorial service on Saturday July 14, 2012."


Random Thoughts


I asked for a vision of eternal love.
He showed me a circle – no beginning, no end.
I asked to see the glory of power and might. I saw lightning – heard thunder.
I asked to see the strength of infinite variety. He showed me a snowflake.
I asked for beauty and peace. He showed me a rainbow.


-­‐Beryl S. Jones