She is why I started blogging.
She is a wise, beautiful, incredible soul.
I asked her to mentor me.
I was beyond honored when she said yes.
Then I asked her to also share a monthly mentor post with all of you, because she is phenomenal.
*****
I've always wanted a mentor. Someone not in my family. Not a peer. A mentor. Someone a few steps ahead of myself, in womanhood, in marriage, in motherhood. And though I've prayed, I have yet to meet her.
Which is why I will quickly take an opportunity to be one for someone else, if a chance arises. What if a younger woman has prayed for me? And what about all those lessons the Lord has taught me in my life, all that pain and pruning I've been through? What about that?
What if all that wasn't merely for my benefit?
And then there's Casey. She and I have been knit of the same stuff, I'm certain, just in different decades. Casey has given me a beautiful chance to be a voice here, on her own blog, because maybe – just maybe – I'm a few steps ahead of some of you. I don't have all the answers. I may have different perspectives than you do about some things. But I have undoubtedly learned some important lessons in my journey so far.
There are things I wish I'd known earlier. Burdens I wish had been lifted by someone who'd already survived my same struggles. Hope and inspiration I wish I had been given. Well, those are the things I want to offer. Encouragement is what it is. And as hard as life is, who doesn't need some of that? I'm so thankful for Casey; she's given honor to my journey by letting me share bits of it with you.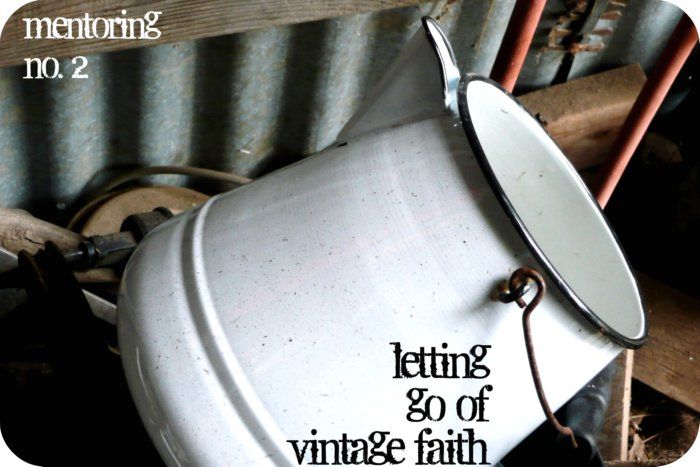 Going to the flea market is one of my favorite things to do.
I usually go without intention to find a particular thing. The fun, for me, is in the hunt for something special and unexpected. It's like a surprise when I find it. A sweet, surprising reflection of me or my family that fits like a puzzle piece in our home.
I went to one a few weeks ago. When I got home, I was happy with my few finds. It was strange to think they were owned by someone else, or perhaps several people, before they fell into my hands. Bits of dust and fingerprints hinted at a history.
As I was thinking about the hands that have passed on the flea market treasures, I thought about the popular love for old things in our culture. We even call them "vintage," giving an impression that the old things are increasing in value as they age, like a fine wine.
It occurred to me how similarly popular it is to have
vintage faith
, beliefs that have been handed down from one generation to the next.
I know many who possess these vintage treasures, who practice the traditions of their parents or loved ones with reverence, but find it hard to anchor themselves personally to God. The teachings of our parents are sometimes placed on a shelf in our hearts where we may appreciate them well enough, but neglect to make faith our own, to wipe off someone else's fingerprints. My parents taught me many wonderful things about God and the Bible. But that gives me no more reason to depend solely on their teachings, and neglect growing my own relationship with the Lord. We are all at risk of
leaning onto the traditions we learned early on and calling it faith.
And we are equally at risk of passing down our beliefs to our kids without teaching them how to grow apart from us.
We will, in fact, one day be gone.
I have friends who grew up with one set of beliefs and now hold totally different ones. I don't want that future for my children. And so I need to remember that as I pass on my beliefs to them, that I also spend plenty of time teaching them to walk with God on their own.
My child's faith cannot be about me, or after they start to grow, continue to revolve around me. I should not always be involved, meaning sometimes, it's OK for them to pray alone at night. Sometimes, we can read our Bibles side by side, instead of me managing all the spiritual instruction. I'm called to teach them and train them in the ways of the Lord, but I also must leave room for God Himself to speak to my children. To help prevent them from leaning on a vintage faith, I need to
wean myself off of playing mediator
between them and God as they get older. Possibly my main goal as a mother is that my children would become comfortable with depending not on me, but on Him.
I regularly have to refresh my own sense of dependence too, wiping the fingerprints off from any hands that have passed down an example of faith to me, no matter how valuable. All the time, I'm discovering
how influenced I've been
by someone else on a matter that needs a second glance. My perspective on prayer, my thoughts on marriage, my beliefs about who Jesus is…I must spend time holding up what I've been taught and what I've absorbed out in the world against what the Bible itself says.
I must work out my own faith with God alone.
I can be encouraged by the examples of others, and no doubt God has put many great teachers in my life to reveal truth to me, but ultimately, I must walk my own walk. And I can't walk strongly unless I'm
letting go of everyone else's hands and holding tightly to God's.
I try to do that by reading His word and spending time talking to Him. I try my best to keep up my end of the connection, often listening, sometimes venting, sometimes pleading. Whatever challenges or blessings that come my way, I try to give God my first thoughts. He doesn't need them packaged in any certain way.
He just wants regular, messy me.
I do love vintage things. But I like my faith brand new. Fresh out of the box, ready for action, carefully assembled by God and me as we walk together through life.
The only vintage love I have in my heart is for typewriters and tablecloths. And, of course, a few more things that I haven't found yet.
{If you were inspired by the last mentoring post to seek out some new friendships or a mom's group perhaps, please tell! Your steps in courage may be just the thing someone else needs to read in order to take her own. Hug.}