This one could be a long one.


I have had quite a few people interested in a post on co.sleeping. Why we do it, how it works.


This NOT a post on what is better or a big post about why everyone should co.sleep…this is just simply our story.


Let me start off by saying that we have coslept with Aiden for 2 and half years but have not co.slept with Ains (I will elaborate on this throughout this post).
But we know both sides extremely well.


I totally get why co.sleeping is awesome for some and doesnt work for others because within our family we have one of each!





I also wanted to say Chris and I both see life very uniquely. This would never have worked if we were not both on board. Cosleeping is great if it doesnt affect your relationship or children negatively. We know our babies are small only once. For us (both very sensitive souls) this is a delicate time we will not get back…so if any or all of our children wanted to sleep by our side, we will always be all for it.


We have watched friends lose children, friends die, friends little ones get cancer, friends get in life changing accidents… when you walk through tragedies in your own life or with people that you love, it will change your life.


It will change how you look at your life.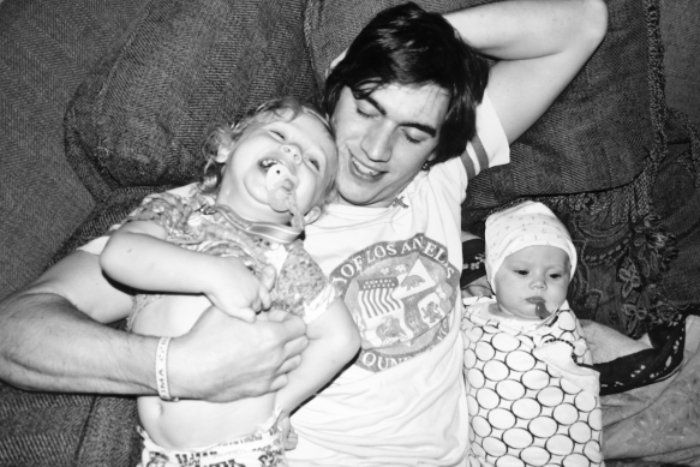 I know people have lots of opinions on the issue- I am not saying anything for either side, just simply our story.


Everyone has to do what is best for their family and for their kiddos….and the truth is, no one knows that except for you!






I think you need to do what will keep you rested in the midst of the craziness. And that may look different for all of us. Even within our own family that is the case!






I was in 3 weddings when I was pregnant with aiden and 2 more when I was pregnant with ains… if that tells you the differences of stages my friends and I were in. When I had Aiden I knew very very few people with babies.


I went into labor with Aiden a month early. Not only was in early labor, he was stuck in my pelvic bone. It would be physically impossible for me to ever deliver a baby unless by c.section. It was late at night, I was drugged, emotional- they pulled him out and there was complete silence.


I will never ever forget that.
He came out blue and silent.
I kept waiting for the scream, the crying….but nothing.
I was behind a curtain and unable to really see what was going on. They brought him over to me and placed his face by mine, I remember kissing his little nose and then they took him away.


No laying on my chest, bonding/crying, kissing, snuggling. No friends and family coming to the hospital to meet our new little man. Nothing. He was far away, wrapped in wires- being taken care of by people I didn"t even know.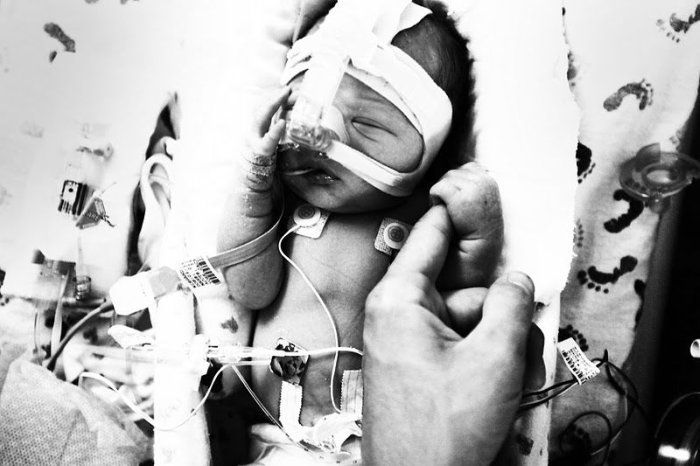 This sounds very naive, I know…but I didn't even know that a NICU experience was a possibility. It had truly never crossed my mind that something like this would happen. My emotions and hormones were completely out of control. I was soooooo so sad. I felt like no one understood. People kept wanting to come to the hospital and I remember just being furious. I didnt even get to see Aiden without permission, why would anyone want to steal those moments from me.


I was not myself.


I had to ask permission to touch him, permission to change his diapers. It wasn't me helping him/bonding with him- it was his nurses. I had my first and only panic attack in the hospital that week. I remember laying on the hospital floor, not being able to breath, crying my eyes out in a complete and utter mess.


I was spiraling.






The day I was supposed to leave the hospital the woman came to get me in my wheelchair and asked where the baby was. I cried and cried. and honestly almost threw something at her. I was seriously not myself at all. And I felt alone. We both felt alone (Chris and I). I remember someone coming to drop off a meal at our house and they made a joke about Aiden (who was still at the hospital)- it hit me then how alone we were. People couldn't relate to what we felt like.


Finally weeks later when Aiden came home, we were in desperate need of gaining back all that lost time. Not only that but for days and days we had watched monitors…. I knew what was "good" breathing, "good" heart rate…then suddenly we were home and had no monitors.


I can remember Chris and I just sitting up at night watching Aiden's chest, just praying he could breathe.
Praying his lungs would not fail.
We had never been with Aiden for more than a couple hours at a time, so once we got him home we put him right by our side and never ever wanted him to leave.


I will be the first to admit, if we had put him in his crib the very first night we came home from the hospital he may not have wanted to sleep with us. But we didn't due to some crazy circumstances. So I will never know.
Life throws us curve balls, I just try to roll with them :).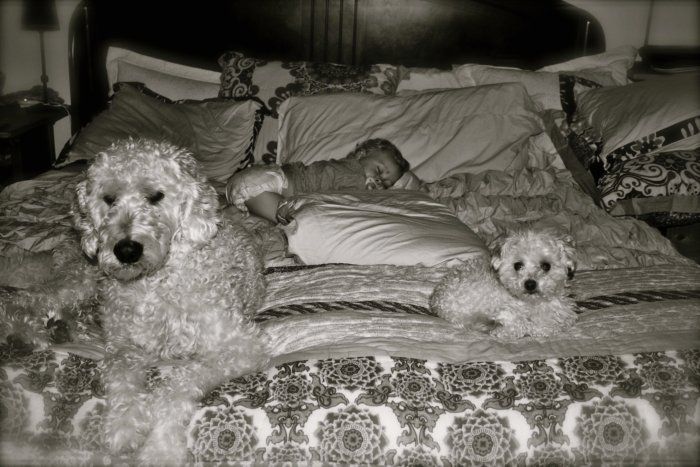 Chris and I are both such sensitive souls. This was painful. We were in a race to gain what we lost.


There were various times in the first year we tried to move him to his crib to see if he was ready but it just didn't work. We all slept great when we were together.
And we dont believe in crying it out/ feel comfortable with it.


We all slept so good when he slept in between us, it just worked. Also, the 3 of us have similar sleep rhythms. None of us move around. We barely know he is there. Like I said, it just worked great. Plus it is so easy…if he woke in the night I would just pull him to me- I could instantly meet his needs.


In the grand scheme of all of our lives the portion and time that our children are small is so tiny… we are able to grasp that. This is just a season, and before we know it, it will have passed.






Then a couple months after Aiden's first birthday we decided (since ains was coming) that we would move him into a big boy bed in his own room. We were prepared for another little one who loved to sleep with us. That was hard. He was used to sleeping with two warm bodies that he loved and he did not want to go. Most nights we would trade off sleeping in there with him just to try and get him to like it.


He wasn't ready.


The truth is, we knew he wouldn't be 15 sleeping in our bed….and that when he was ready he would pull away.


And we wanted to meet his needs until we got to that point.






So when Aiden was 18 months old, I went into early labor again ( a month early) with Ains. I was 6.5 cm by the time I got to the hospital. We had the same experience again. She came out blue, not breathing. She was immediately taken to the NICU. But something was different this time. I had emotionally prepared myself that this may happen again. I knew that we would get those moments back (I saw that we did with aiden).


Also, if I am being completely honest I was going through some incredibly painful and messy stuff in my personal life (that I have never blogged about) and everything was a bit of a fog.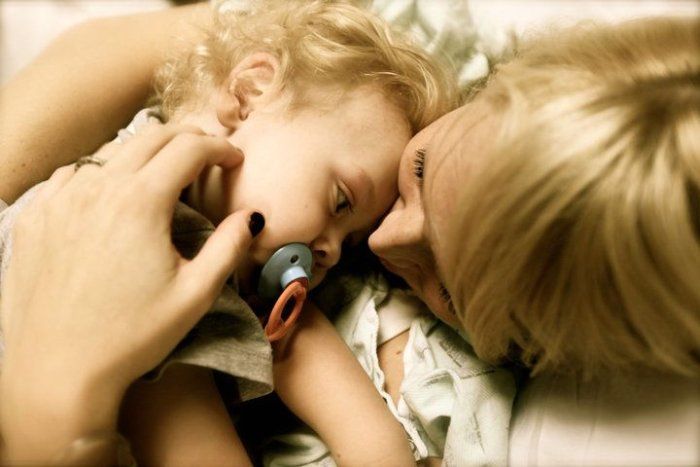 We came home without Ainsleigh. Then weeks later she got to come home. I noticed right away she was different than aiden. She didn't like to be in the same room as us for sleeping at night. She wanted to be in the dark, in the quiet, in her own space.


We wanted to meet that need.


It's amazing how well you can know your child from the first moments.


I have always thought that I am good at getting in rhythms with my babies. I know what certain sounds mean what, I can anticipate things….I just have been very in tune with them both from the first moments.


So we gave her what she wanted- she slept in her big girl crib, in her own room. Ains has always been an amazing sleeper.






So after much thought and conversation Chris and I decided to try dropping Aiden's nap- just to see what would happen. And much to our surprise, he didn't miss a beat. He has been going to sleep in his own bed at 7 or 8 pm and most nights sleeps all night in there and other nights still creeps down the hall to our room around 4am, which is fine!


There will be a day when he never ever does this again. And we will miss it desperately.


We waited until Aiden was ready to start transitioning him. We tried a few times before…realized he wasn't ready.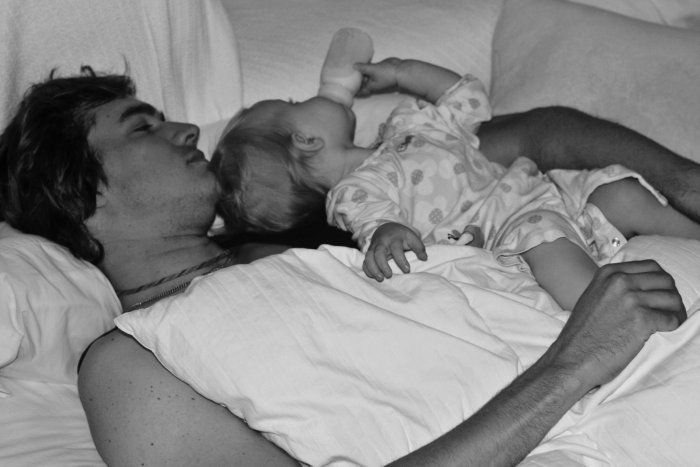 On twitter and Facebook I asked if anyone had any specific co.sleeping questions, so here are a few answers:
We have a king sized bed.
2. When/How do you incorporate time with your husband? I always wondered that for co-sleepers!
Chris and I always smile at this :). We have many open rooms in our home; if Aiden is asleep in one of them, we just hangout in a different room. Sometimes we move him into his own bed so that we can be in our own room together (then he would just join us later when he woke up). When we decided to let Aiden cosleep with us, what came with that decision was the need to be creative.
I can imagine when you have teenagers you have to be intentional just like when you have little ones you must be intentional. It just all looks different.
I promise you this is not an issue whatsoever. a bed is a bed. And we don't look at the actual mattress in the biggest room in the house as sacred :). Like I said before though, you and your husband need to be on the same page. If you co sleep and your husband doesn't agree – then you truly are choosing one family members needs over the other. And thats where I personally would say to choose your husband. But hopefully you will see eye to eye.
3. Do you have suggestions on how to successfully co-sleep, where you feel rested as well!
If co.sleeping had been frustrating, tiring, etc we would have figured out something else. For whatever reason Aiden does not move around or wake up if he is with us (it is when he is in his room that he wakes up multiples times) so for us personally it was a way for us all to get the best rest!
4. I would love some ideas on how to respond to people who are anti co-sleeping… who always feel the need to criticize our choice.
I think this is a great article with some amazing facts that you could use if you were being criticized for co.sleeping:
HERE
5. When is the right time to transition?
I think it is probably different for everyone!
6. why not teach them how to sleep?
For various reasons we do not feel comfortable with our kids ever crying it out. Both Aiden and Ains have never cried it out and both sleep all night. One with us (sometimes) and one not with us. We just let them move at their own pace. Whatever each of our little one's needs are…that is what we will meet.
7.Did you also try to use cribs or bassinets for the children?
Yes, we tried transitioning Aiden a few times and he was not ready. Now he sleeps in a big boy bed. And Ains has always slept in a crib.
8. how do I stop my son from throwing everything in sight behind our headboard?
I have no idea! We have quite a few pasies behind ours as well :).
9. When do you plan on transitioning them to their own bed?
Both are now transitioned!
Research shows that co-sleeping moms are more aware of their child's wakings and movements. Also, many other countries in the world don't even have cribs. And you have to think in the big scheme of the world….babies have been sleeping with their mamas since the beginning of time.
read
this
article for more info.
7. I'd love to hear more about your choice to keep them on bottles through their toddler-years. What influenced your decision and how do you feel it has affected them (both positively and negatively if possible). 🙂 Thanks girl!
Both our kiddos around 6-8 months started drinking juice and water from sippy cups, and around one years old even drinking from real cups. They both use forks and spoons and feed themselves. I just never understood why it was a big deal for them to stop drinking milk from a bottle. I knew they were drinking all other liquids from cups and sippie cups and if they wanted their milk from a bottle we were fine with that. We don't let them have bottles in the night, so it's just when they want them in the daytime. I figured that back in the "old days" they didnt have sippie cups and kiddos drank from bottles, so why is it a big deal now:). Plus both our babies really love milk and it is good for them! Also, I know they wont be 5 years old drinking from bottles…so for now.. I am just letting them be little- taking their needs one day at a time!
8.What are your thoughts on non co-sleeping families, AKA my family and how I will most likely raise my kids? How do you respond to people who choose other ways than you do?
How would you hope that people of different parenting styles would choose to respond to each other?
Well since we cosleep with one and dont with the other I feel like we can see and fit with both sides. If I only had Aiden I might be on one side. or if we only had Ainsleigh we might be on the other side…but the cool thing is that we have one of each…and to Chris and I, doing what is best for us and for each of them is what we want! Even if that looks different with each child….just like it looks different with each family. I really do wish people would be more loving. Just understand we are all different. And be okay with that. Being honest, I am very sensitive to negativity. A year with this blog has taught me a lot- I get people who just spew hate at me…and I don't understand that. I hope to love well. I want to understand other people. The last thing I want to do is just spew out hate and negativity to people, especially people I don't know.
9. Very honestly think co-sleeping sounds exhausting…is it?
It might be for some people. If it was for us, we wouldnt have done it. The reason we did it was because that is how Aiden slept peacefully all night. I will be the first to admit, if we had put him in his crib the very first night we came home from the hospital he may not have wanted to sleep with us. But we didn't. Due to some crazy circumstances. Life throws us curve balls, I just try to roll with them :).
10. How do you and your hubby instead show your kids that your relationship to each other comes first? What boundaries or actions do you two practice that shows them that that is your commitment to the family, to each other?/
How do you communicate to your child that daddy comes first and they are after him? I love my kids (we all do here), but when my kids are there, my husband and I both focus on them and not one another. I want to make sure they understand that they are not the center of my universe. They are a huge part of it, but not the center.
I think that showing your children that your spouse comes first just by a night routine or sleeping just the two of you in a room as = to daddy coming before babies as limited. Showing our kids that our marriage comes first is much much bigger than that.
I really think if anyone came into our home and saw our family unit for any period of time that question could be answered based on actions. One of the greatest gifts we can give our babies is a beautiful, thriving marriage. Chris pursues me, we go on date nights, we are affectionate, the way we interact, the way we react to each other in situations and love each other…these are just a few examples of ways we can show our children our commitment to each other. Chris is home with us all day. So we have the entire day to show this to them. As they get older we will have conversations about that. And as they get bigger, I think more boundaries will come into play. And changes will be made. If your husband is sleeping on the couch, I would personally say that co.sleeping isn't working. I would also admit that the first year of Aiden's life I made some mistakes. and learned quickly. God comes first…then Chris…then the kiddos. My gift to these babies is a wonderful marriage. They need to know that.
11. What do you do if your child doesn't ever want to move to his or her own bed?
I guess I can't really answer that because I haven't been there. If Aiden was 13 years old and wanted to still sleep with us then I can understand that being a problem. I guess we just look at 10 years out of 100 a small fraction….if for a time they need to sleep with us, that's fine.
I want to end this post on this, it was in an email from
my mentor
who is so amazing:
"Living your life to get that deep God-like validation from your peers is a scary place to be in. If someone threatens your sense of self and questions your choices, watch out. "on Christ the SOLID ROCK I stand. All other ground is sinking sand…" Basing one's self-worth on the opinions of the masses is nothing but sinking sand."


You know your family best.
Your kiddos best.
Do what is best for you.
If you feel defensive or angry, just die to that. I am also doing this.


I want to see that everyone has different stories and that there is a "best way" that may look different for each of us. Don't seek peers for your validation, stand firm in your own decisions.


Lastly (this part has nothing to do with co.sleeping, just something on my heart)
… Chris' grandmother passed away this week. We had the viewing tonight and have the funeral tomorrow. Driving home I was thinking about the beautiful video that played (that she never got to watch) and all of the people saying things to her "things they wished they had said." It got me thinking… if you lost your spouse tonight…or your babies- what would you wish you had done.
Because whatever it is…..go do it now.
If you wish that you were more gentle or more cuddly….or more forgiving, slower to react, a better friend….whatever it is- go do it.
Our time is short.