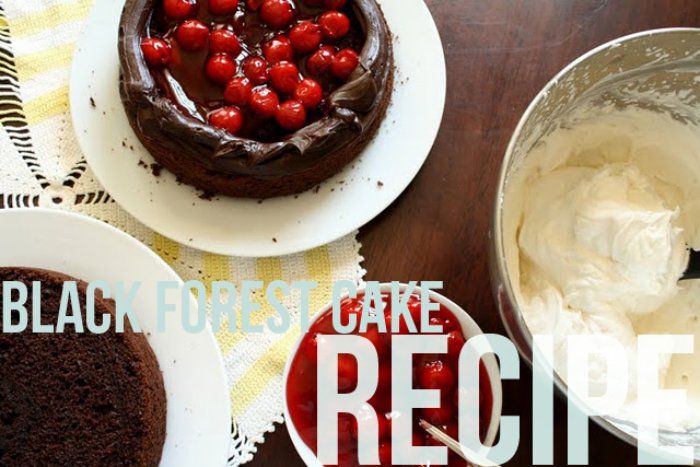 I asked her team.up with me on a little project…
since I am not so good in the kitchen/ DIY area and she is AMA.ZING….(not only does she create incredible things but her presentation is BEAUTIFUL), I have asked her to help me out in these areas! Hooray! She is truly an inspiration with all of her creativity…it makes my heart skip! So today she is bringing you this fabulous recipe!
I mentioned this weekend that I made my husband and cake for his birthday. He loves chocolate but I didn't really want to make a just a boring chocolate cake so I made a quick version of a recipe my grandma made for my family when I was younger. She used to make Black Forest Cake for my brother because it was his favorite. So here's a quick way to make it and I've also shared a link on how to make your own Black Forest Cherry filling to make it more authentic (if you have more time than I did).

Chocolate Cake:

Preheat oven to 350 degrees.
In a bowl, stir together the sugar, flour, cocoa, baking powder, baking soda and salt. Add the eggs, milk, oil and vanilla, mix for 2 minutes on the low to medium speed of mixer. Stir in the boiling water. (for cupcakes)
Bake 19-21 minutes. For your cake (9 inch rounds) bake about 35 minutes.
4 Tablespoons of powdered sugar
2 teaspoons of vanilla extract
Whip your heavy cream (in a cold bowl) until it stiffens and peaks. Add in your powdered sugar and vanilla. Don't over beat your whipping cream because it will thicken and get butter like. (not so good).
I used a cherry pie filling from a can but here is a great recipe for cherry filling from scratch found here.
For cupcakes: use a small fork to dig out the centers of your cupcakes and fill with your cherry filling (and a little chocolate ganache if you would like). Ice with fresh whip cream. I also topped them off with left over cherry filling.
For a full cake: Fill a piping bag with chocolate ganache icing (heavy cream and chocolate…this is a greatrecipe here). After your cake rounds have cooled, slice of the tops with a large bread knife or a cake top slicer. You can find one in your local craft store in the baking section and even wal-mart if you're from the states. Place your cake on your desired tray or plate. Pipe chocolate around the outer edge of your cake round. You do this so that your filling doesn't seem over the sides of your cake as you go to ice it. Fill your center with a little bit of cherry, and then some fresh whip cream. Place your second cake round upside down on top of the first round. Pipe out the rest of your chocolate icing all over your cake and smooth with an icing knife. I used some left over cherries and whip cream to top it. Not the prettiest cake…but it doesn't matter because it's good. 🙂
Hope you guys enjoy!!