I am SO excited about this recipe exchange!
We will be doing these one or two times each month!
Easy Chili
Okay I feel a little silly even posting this BUT it is kid.approved and this is why I am doing this in the first place,
because I need help in the kitchen!!!
you will need:
Bush's Chili beans (we buy mild)
Brown Meat
Add in one can of Bush's chili beans (don't drain)
Add in one can of Bush's baked beans (do drain)
add a tad of brown sugar ( we are major "sweet.tooths" over here)
put cheese on top
scoop with fritos
——————————————————————————————————
I had a few comments about people saying they have a hard time knowing what sides to make with what meals….
SO, I emailed Elizabeth at
Elizabeth Ann's Recipe Box
to handle this one!
Here is what she had to say!
A successful dinner party includes much more than a well thought out seating chart and a lovely main course. Many times people get stumped on side dishes. So let me share with you some of my "tricks of the trade!" 1. Color, Color, Color. The more color on your plate the better! Vegetables, salads, and soups are all amazing first courses or side dishes. Don't ever serve two whites together (i.e.potatoes and rice)! Pick one or the other and then add a vegetable! 2. Speaking of potatoes, you should only have one starch/carb on your plate. For example, if your main course is pasta, do not serve potatoes with it. Or don't serve rice and pasta as side dishes. Choose one or the other. 3. A beautiful dinner would include a brightly colored first course and a meat, vegetable and starch for the main course. I paired this
Maple Walnut Chicken
with spinach and rice. Add a
Cucumber and Bell Pepper Salad
and you are set! 4. But above all, make sure you have WONDERFUL bread and an out of this world dessert, and your dinner party will be memorable! 🙂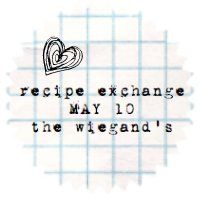 <a href="http://www.thewiegands.blogspot.com/"><img alt="Photobucket" border="0″ src="http://i1202.photobucket.com/albums/bb380/CaseyWiegand/mini_starburst_punch_grid_4-3.jpg" /></a><br />