"We become women with amazing lives when we begin to put Jesus' words into practice."
This week on christian talk radio (which lets be honest, I don't normally listen to but we got called to take Aiden out of the church nursery bc he wouldn't stop crying…long story short we spent Easter Sunday listening to a sermon on the drive home)I heard a pastor say "many many of you believe you are christians and are not". He gave the example that many people "believe eating right and exercising is healthy"….they know everything about it, could have conversations about it, meetings about it….but they choose not to partake in it, it isn't their lifestyle.
He said many of us believe we are christians, believe in God…but do not actually know Him. Knowing about Him and knowing Him are two very different things.
This is scary.
"The narrow road is obedience. The narrow road is a woman deciding to live her life as a beautiful offering to God. We take the narrow path every time we choose to respond to the Holy Spirit in obedience."
I love Jesus. I want my life to reflect that desperately. I fail constantly. And although I have many many blessings here on earth, my home is not here. I often dream of heaven. And please remember that in "blog world" I get to edit my pictures, I get to choose what I share. There is much you don't see. This year has been my toughest year. Not just because of our job situation….because of other things I have battled privately as well. If I didn't have the hope of Jesus and the hope of heaven I could not survive.
Place your hope in Him.
"Stop trying to fit Him into your life; instead build your life around Him."
I need to do this more.
I imagine, we all do.
"Enter through the narrow gate. For wide is the gate and broad is the road that leads to destruction, and many enter through it. But small is the gate and narrow the road that leads to life, and only a few find it." Matthew 7:13-14
tell me, what is on your heart?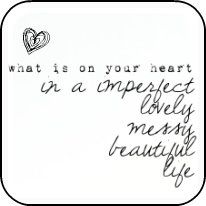 <a href="http://www.thewiegands.blogspot.com" target="_blank"><img src="http://i1202.photobucket.com/albums/bb380/CaseyWiegand/IMG_8455_2-1-1-5.jpg" border="0″ alt="Photobucket"></a><br />