"He restores what has been broken & heals what has been wounded. I don't have peace because I figured it all out. I have peace because I believe in Christ."


When I met Chris when I was 22 years old, I fell in love with him fast. A good looking guy, charming, talented at everything, creative…Godly….he wants to marry ….me?!? Sign me up!!!
I took my vows on June 16 and can honestly say that I signed up for marriage with absolutely no idea what the true purpose of it was/is. I went in with the wrong attitude.
I was entitled, thought I deserved to be loved a certain way (okay I maybe still sometimes have to fight that)….I thought that it was every.day with the love of your life, candlelit gazebos and 100% pure romance and happiness. Beautiful babies, a perfect home, no problems….
life as perfection.
Actually it is that in a lot of ways.
But there was also a lot of naivety on my part.
Chris & I have had some messy patches. Who hasn't? Everyone's look different. Once you realize that the point of this "marriage thing" isn't really about me and what I can get out of it things start to change. It's about making me a BETTER me….and strengthening my relationship with Jesus. By loving Chris when it is hard to love him (and him doing the same), that helps me/him in the heavenly perspective/ long term outcome of this whole deal.
It's not just a one time choice. It's a wake up every morning choice.
"You must crucify your selfishness."
Today I will be selfless, have zero expectations, love well….be slow to judge, choose forgiveness and laugh things off.
Then wake up and do it all over again.
Okay & let's be honest what girl out there doesn't want to feel special…..feel beautiful, unique…. cherished.
My guess is that after being married for awhile, after birthing children in front of these guys, having bad days in front of them, being sick in front of them…and the list goes on…. they look at us …..
well, not like they did on our second date.
This was really sad to me.
I want Chris to look at me everyday like it's the first time.
The truth is though he has given me the world.
He loves me very well.
He has made all my dreams come true…
and whether we both make mistakes…for better or for worse…
I CHOOSE him.
"I found there was a tremendous amount of immaturity within me that my marriage directly confronted. The key was that I had to change my view of marriage. If the purpose of marriage was simply to enjoy an infatuation and make me 'happy,' then I'd have to get a 'new' marriage every two or three years. But if I really wanted to see God transform me from the inside out, I'd need to concentrate on changing myself rather than on changing my spouse. In fact, you might even say, the more difficult my spouse proved to be, the more opportunity I'd have to grow."
Going through life with this person makes us better. It molds us if we allow it to. They will look at us differently, but if we are able to see it they probably have more love in their eyes then that second date :).
I love you cdw. Glad you chose life with me :).
Im a happy girl.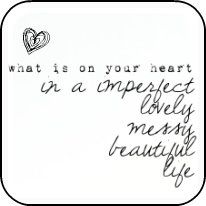 <a href="http://www.thewiegands.blogspot.com" target="_blank"><img src="http://i1202.photobucket.com/albums/bb380/CaseyWiegand/IMG_8455_2-1-1-5.jpg" border="0″ alt="Photobucket"></a><br />