If you've had children before or seen a movie where a baby is born you know what it's like…. There is this intense, incredible buildup… crazy amount of anticipation and then after all you've been through…. You hear it, the most beautiful scream in the world……then a huge sigh of relief.
Well, I never heard that.
This is not a pity party for me. It is simply my NICU story and how it molded me.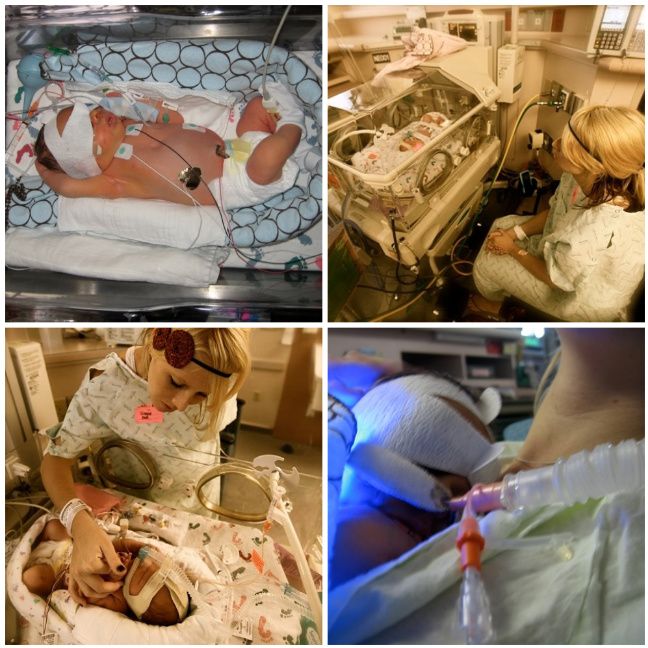 I will start out by saying that my NICU experience was entirely different with Ainsleigh. Although we went through the exact same thing I had already learned my lessons, I was emotionally prepared for it & had a whole new perspective. I won't bore you the details of everything leading up to their arrivals…but I will say they both came a month early and
although I fully dilate my hip bones are small and in a position where I have trouble carrying babies to term and it makes it impossible for me to have babies other than c-sections.
(TMI?)
Okay so back to Aiden…my first experience, not prepared for the hormones, the emotions. I am on the table… I feel the final pull (although you are behind a curtain) and all these nurses & doctors are scurrying around and proudly announce that he is in fact here!
Why isnt he crying?
Same exact thing with Ainsleigh….
silence
. They both were born with undeveloped lungs and were blue when they came out. Not sweet newborn baby purple,
BLUE
…Like no oxygen
blue
.
Both times I got to see their faces for a split moment and
they took them away
.
No laying your baby on your chest for that initial bond. No three days in the hospital snuggling, connecting, showing them to family. I remember someone saying to me during this time,
"God is just making the joys of parenthood sweeter for you by introducing you to the heartache early. Each anxiety we experience produces a greater appreciation for the wonderment that precious children bring into our lives."
With Aiden I had this overwhelming amount of frustration. I loved him so much & yet I could do nothing to help him. I couldnt even touch him. I would lay in my hospital bed and just cry. I just imagined him in there alone with a million tubes surrounding him…
far from me
. When I was able to go in there it was nurses fixing him.
I would ask permission to hold his hand
. I remember once I was dismissed from the hospital just wanting to go back…even if I was just sitting in the waiting room.
Now I know that there are many people who have had NICU stays for months and months and I kept reminding myself to be thankful that he was okay and that he was safe. There are also women that leave with no baby, so in retrospect it is good to have perspective.
But this rough start sent me in a tailspin. I was overprotective. I didnt want to share him. I wanted all those moments back. I wanted him to sleep in our bed and wanted him attached to me every moment.
"And then when you hold your dreams with open hands, you get to watch God resurrect what seemed dead and multiply what seemed small."
Somewhere along the way I realized that I wasnt promised anything with these sweet babies. The Lord didn't promise me a tomorrow with Aiden or Ainsleigh.
Thus,
the gift of the now
.
I have to let others enjoy them. I have to have
open hands
.
I have to give that all to HIM & trust that
When the nurses came in to explain that Ainsleigh was placed in NICU, I told them I already knew. And that is was okay. Just fix her. I trust you. I spent the time apart from her in prayer and thanks rather than in sadness & frustration. It gave us some time back at home with Aiden after her birth to give him a little extra love before we brought her back.
I remember when Aiden was in the NICU and I would have given ANYTHING to have him home thinking….some moms complain that their babies wake them up at night…and I would give anything to have him home waking me up…as long as he was with me, in my arms. I hope I never forget that.
I hope I never forget that in other areas of my life too.
We never know what people are going through.
There are things about our family that I will never share on this blog…not because I want to be fake or not transparent but because it is best. But there are things that no one knows. It helps you realize that everyone has struggles, everyone is battling something. And the best thing for them is sometimes to deal with it privately.
Being sensitive to all we encounter is always a good road to take.
Love well. This life is short & ultimately we have no control over what happens.
All we can control is our own REACTIONS.
React in love. React with open hands. React with forgiveness. Make the choice.
(VOTE FOR US :), you can vote once per day)