I love taking pictures.
I love capturing memories and moments and telling a story through the images. One of my favorite things is working with photographers because of this.
Matt contacted me and after hearing his heart and seeing his work I was thrilled to work with him! He drove all the way down to Dallas from Oklahoma to take pictures with me and the kiddos and was a complete joy to work with. He was patient with my kids and captured them in such a beautiful way.
I can say first hand that I would recommend him to anyone, he is talented and was wonderful to work with. The way he worked with my kiddos said it all. He is also a new dad and is extremely passionate about his work.
Matt is willing to travel anywhere and is going to be giving away something tomorrow on the blog for a 2013 bride no matter where you live, so stay tuned! If you know someone getting married in 2013 please send them my way…they don't have to be a blog follower to enter!
As a small incentive to help spread the word I am going to give a free large ad space as my own little giveaway tomorrow in addition to what he is giving… so any way you spread the word via social media (comment for each) or any ways that you follow Matt or I (comment for each).
In the meantime- here is a little interview I did with him so that you all could get to know him and his heart a bit better!
** also, Matt is offering a 10% discount to you guys! So tell him you found him through me and you'll get the 10% off!
Talk to him on twitter

here

.
or on facebook

here

.
Back in 2008, I received my first DSLR from my parents as a gift. It was a Canon Rebel XTI. This was sometime around the beginning of 2008. That was my starting point. Back then, it was just a hobby with no intentions of doing anything professionally.
After taking a couple of classes from a local photographer, I decided to give this whole thing a shot. I bought a couple of quality lenses for my Rebel and started down this crazy path. Since then, my business has grown steadily over the past 3 years. It's a slow process, but one that has been both enjoyable and rewarding.
What does photography mean to you? What are your goals?


Great question. This one took me a long time to figure out, and I'm still working on it to this day. For the longest time, I was just shooting to be shooting. I had no real vision or purpose behind my work. You know what they say about people with no vision right? They perish. Yeah, I didn't want that to be me or my business so I set out to discover my vision as a photographer, as an artist.
Recently, and I mean like the past few months, I feel like I finally started to realize my vision. This is nothing all that exciting for the rest of the world, but for me, it's huge. It puts meaning behind my images, and has significantly shaped the way I work. Ok, so here it goes – my vision is to tell the story of people. I know it sounds simple, but there is a lot of meaning behind it. For example, if I photograph your wedding, I want those images not only to document the day, but also to describe who you are as a couple and the true emotions of love and happiness you have towards each other. I want those images to move you, not only the first time you view them, but also when you pull them out in twenty years to show your kids.
So that's my goal – to be a true and honest storyteller of people and moments, and to create images that move you.
Why weddings? Why did you choose weddings over some other type of photography?
This one is easy. Wedding days are jam packed with storytelling opportunities so they are a natural fit for me. I love photographing the "moments" of a wedding day – the beaming expression of a dad that quickly turns to teary eyes as he sees his daughter for the first time in her wedding gown, the rough and tough groom that can't hold it together as the church doors swing open and his bride walks down the aisle, the pure joy and euphoria of the newlywed couple as they are announced for the first time, the closeness and intimacy of the first dance. I could go on and on. All of these moments are overflowing with emotions of love, celebration and happiness. It's my job to capture them, and I absolutely love it.
Your blog says that you shoot film and digital? Why film?



I could answer this a couple of ways, but ultimately it comes down to one thing. Emotion. Maybe it's the warmth to the subtly soft colors of a color negative or the romantic nature of the fine grain of black-and-white negative. I can't really explain it, but I feel that film captures certain emotional qualities and nuances that are somehow omitted in the digital medium. As a storyteller, this is critical. So often those nuances contribute so much to the moment I'm trying to capture.
Don't get me wrong, digital is a wonderful and powerful tool, and I utilize it for certain situations at nearly every wedding. But there is just something about film that makes me a better, more consistent photographer. It probably has something to do with the fact that with film, every click of the shutter is an investment. Because of this, it makes me more connected to every shot. It makes me slow down. It makes me focus.
Ultimately, it's not about film vs. digital it is about how the images make you feel when you look at them. For me, film images make me feel, and I want to share that with my clients. After all, if we are talking about your wedding, we are talking about some of the most important moments of your life. Those moments deserve no less than to be captured in the best way possible.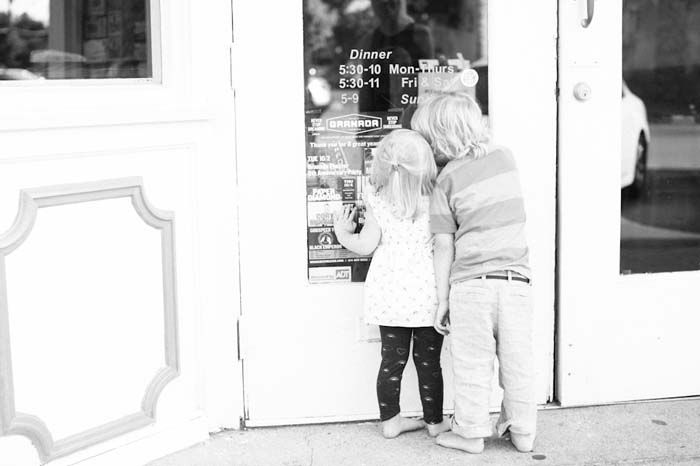 Besides photography, what else do you like to do?



The only things more important to me than photography are God and my family. I am a family man for sure, and I love them with all of my heart. I love spending time with my wife, Jaime, and 3 month old son, Maddox. Since Maddox has been born, he has had us up a night, running circles during the day, and constantly wondering where the time goes. And I wouldn't trade it for anything. We are so grateful to God for him and this incredible time in our lives. He is at the point right now where he has started smiling at us when we talk to him. I don't really consider myself a softy, but this melts my heart.
Are you available to travel to photograph?



Absolutely! Photography has taken us out to the west coast a few times so far, and we have loved it. Traveling is something we hope to do more of in the future.

I would love to hear from you!
You can reach me through

the website

or by email at info@mattmartinphotography.com