the Stylish Blogger Award, so incredibly sweet!!! She and I went to Kanakuk together, then Baylor and have become great "bloggy" friends! You have to check our her blog for all of her incredible recipes! Follow her, shes amazing!!
When receiving this award the rules are
1. Thank and link back to the person who awarded you
2. Share 7 things about yourself
3. Award to 10 great bloggers
4. Contact those bloggers and tell them about the award
Seven things about me… (I will make these quick!)
1. I love Jesus with all my heart & soul. I desperately want a kingdom heart & perspective. My life changed drastically after college and then took another drastic change this summer. Heartaches & all I believe suffering makes us lovely and brings us to Jesus.
2. Chris and I have a very sweet love story. It starts all the way back when I was in highschool. (No we were not highschool sweethearts….but he had his eye on me since then, smiley face). We have been through a lot together. He has given me my art ( I didn't paint professionally until I met him), he gave me my children, he gave me A Little Artsy, he gave me a love story, a new relationship with Christ, an entirely new perspective on our time here on earth…..he has given me much.
3. oh yes and that leads me to three….. I have two sweet babies (Aiden & Ainsleigh). 4 months and 22 months. They have changed my world. So much love…..oh and we want two or three more :).
4. I eat very silly things. I am addicted to kid's food…capri suns, gummy snacks, twinkies, candy…but also love strange combos….like turkey, cheese & jelly sandwiches!
5. I have never taken an art class, had my first art show in 2008 and didnt sell a painting until I met Chris. So I am just a newbie at all of this!
6. I adore the beach. I would be fine living on one :).
7. A few random facts smashed into one….favorite color: mint, favorite book: "A Beautiful Offering", I have a headband obsession, I love being pregnant, someday I'd love to write a book, I have one brother (6 years younger) named Travis, we have 2 dogs (Macy & Ellie) and I love love seeing the world through creative eyes.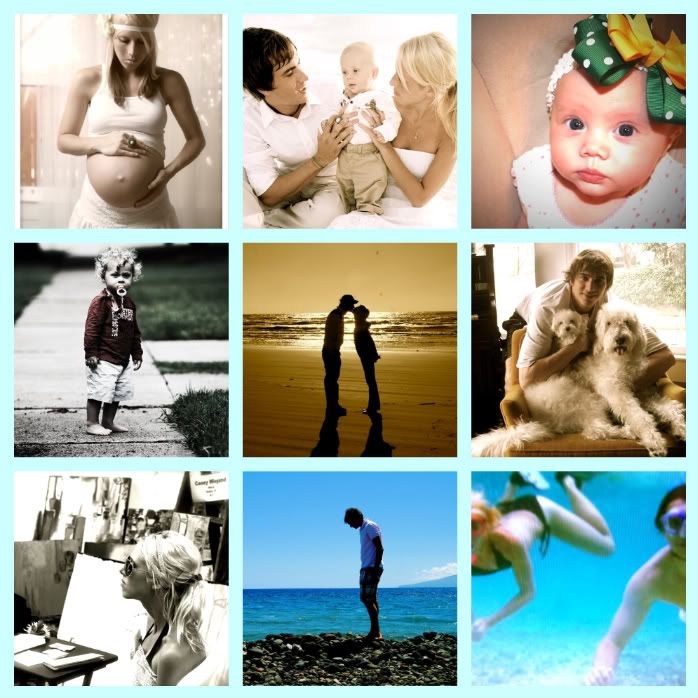 Ten Beautiful bloggers (wish I could pick 20 )
1. My new bestest friend, Sarah, at
Kittens & Pitbulls
.
She has blessed me beyond imaginable and has a pet tiger! YES, you read that correctly! Check out her blog…I am lucky shes in my life!
2. My new bloggy inspiration Danielle Burkleo at
T
ake Heart
.
She has a beautiful heart, great ideas, a precious family & has been super sweet to me. You can see Jesus in this lovely's writings.
3.
Cake & Cotton
.
Okay I am going to cheat and put three into one….they have a joint blog filled with incredible ideas and precious projects/recipes. BUT also check out their individual blogs…they will knock your socks off. I am serious! I can't get enough.
4. The beautiful & talented Melanie at
Frolic Fancy Free
. She has phenomenal taste, a darling etsy shop and is constantly sharing inspiring posts.
5. My cute friend Katie at
Cox's Corner
should be a writer. She has the greatest stories about her little guy and has number two on the way! She is a dear friend…check out their precious fam.
6. Camille at
the Jennings Secede from the South
is SUCH a breath of fresh air. She has two kiddos the same ages as mine and has been such a great "go to " mama for advice. Her blog has me laughing everytime I read!
7. My other new bestest friend, Jessa! Jessa has a little girl named Finley and shares a lot of the same passions as me. We love art and we are both free spirits….she also came into my life at such the perfect time. Check out her blog at
the family of Adlers
.
8. Lauren at the
Staats Life
is always blowing me away with precious ideas and incredible decorating. She has a cutie pie named Noah…and she was the sweet friend who sent me those darling headbands!
9.
This
is an incredible blog. This woman has a phenomenal story and is using her art to give back. She paints with a purpose. Check out her blog to see their fight with autism.
10. and lastly my dear friend Wynne at
Elder's Adventure
. They have a really cool story and are working to bring home their little boy, Camp, from Africa. She also has a beautiful photography business….God is doing big things with this lovely lady!
*** There are so many more! Look at my blog roll…all of these are phenomenal blogs that I adore!